According to TrendForce's latest report "Gold+ Member: Global LED Industry Data Base and LED Player Movement Quarterly Update", economic activities have returned in all aspects as the COVID-19 pandemic began slowing down in 2021, boosting the global LED market scale to USD 17.65 billion (+15.4% YoY), a growth rate that beats expectations. Looking to the future, market value of Mini LED backlights and video walls will continue going up, along with increased automotive LED penetration, rising demand for high-end lighting, and expanded video wall applications. TrendForce predicts that the LED market value will jump to USD 30.312 billion in 2026 with a 2021-2026 CAGR of 11%. In the coming years, the demand for Micro/Mini LED will be the focus of capacity expansion among LED chip manufacturers. In addition to Chinese players, suppliers in Taiwan (Epistar), Europe (ams OSRAM) and North America, Japan, and South Korea are demanding production capacity expansion. Such expansion mostly targets at the Micro/Mini LED demand, based on which TrendForce forecasts a year-by-year uptrend in proportions of 6-/8-inch wafer production.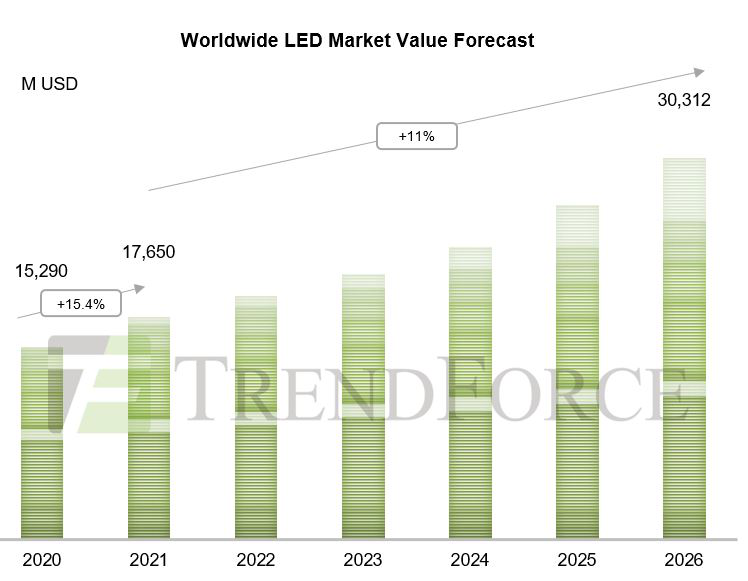 TrendForce has summarized applications with high growth potential in various markets as follows.
1. Micro/Mini LED Market: In 2021, the demand for Mini LED backlights and Mini LED video walls surged considerably. With tech giants like Apple and Samsung taking the initiative to adopt the technology, an increasing number of manufacturers have launched Mini LED products. Mini LED will likely become the LED segment that enjoys the fastest growth for years to come. By contrast, TrendForce—after examining the status-quo of the Micro LED industry—concludes that the Micro LED market has been below expectations in various aspects such as technical challenges, cost structures, and suppliers capable of mass production. It might take more time for the industry to achieve large-scale mass production. Nonetheless, Micro LED will still be a focus of development for the LED industry as the application of this cutting-edge technology to large-sized displays, wearables, and head-mount displays is highly promising.
2. Automotive LED Market: With rising car shipments and LED penetration, the global automotive LED market scale skyrocketed in 2021, mostly driven by the growth in headlights and automotive displays. In the long run, the penetration rate of LED headlights will continue rising. The rise of ADB and other new technologies will further boost the market value of LED headlights. The shift to using large-sized automotive displays will also stimulate the demand for automotive backlight LEDs. Intelligent ambient lights comprise RGB LEDs powered by built-in IC drivers with simple circuitry, flexible applicability, full-color display, and dynamic scenario effects, hence their ability to create a customized in-cabin atmosphere. Intelligent ambient lights will be applied to high-end car models starting in 2022, leading to steady increases in market value that will likely reach USD 248 million in 2026.
3. Video Wall Market: Benefiting from the reopening of various sports and business events, the global LED video wall market has seen demand recovery. Despite demand hit by shipping cost increases and government budget reductions during 2H21, the video wall market managed to achieve noticeable growth in 2021. Additionally, new applications of LED video walls have been created, such as those related to meeting rooms, home theaters, movie cinemas, and virtual production, which are likely being a major driving force of growth in the fine-pitch display market. Meanwhile, the market scale of outdoor displays—mainly used for advertising, transportation, sports stadiums, and live events—will continue growing in 2022-2026. Notably, China's 2022-2023 policy of establishing "Thousands of Displays in Hundreds of Cities" will likely promote growth in the outdoor display market.
4. Invisible LED Market: This market comprises UV LED (including UV-A LED and DUV LED) and IR LED products. In 2021, the expanded vaccination coverage and declined UV-C LED prices caused the market demand for UV-C LED to slow down, hence a considerable shrinkage of the UV-C LED market scale. In the UV-A segment, however, increases in the demand for 3D printing, LCD lamination, and wafer applications allowed the market to grow. In the long run, air and large surface sterilization will be the focal point of leading home appliance brands. Moreover, the UV-C LED market will enjoy growing market demand as the component is likely being applied to OEM automobile air conditioning, dynamic water sterilization, manufacturing industry facility, and factory automation applications.
The IR LED segment mainly comprises applications of security surveillance, 2.5D facial recognition, DMS and OMS, and eye tracking. Thanks to rising demand and stable prices, the IR LED market slightly grew in 2021. As DMS, OMS, and eye tracking are still at the introduction stage, these applications are expected to boost the demand for IR LED in a long-term perspective.
5. Agricultural Lighting Market: Compared to its rapid growth in 2020, the agricultural lighting market experienced an LED demand slowdown in 2021. In particular, the demand was hit hard in 1H21 by soaring shipping costs and crackdowns of illegal marijuana farms in North America, which then dragged down the demand for agricultural lighting LEDs. In the coming years, nevertheless, more regions will legalize cannabis (In 2022, the United States is expecting to see another six states approve medical cannabis cultivation, while Thailand plans to legalize medical cannabis in 2H22). Moreover, given the increasing occurrence of extreme climate changes, indoor farming can help localize and shorten food supply chains with better safety. In the long run, the agricultural lighting market—including horticulture lighting, animal husbandry lighting, and fishing light markets—has high growth potential.
6. General Lighting Market: Following downturns in 2019 hit by the China–US trade conflict and COVID-19 pandemic-depressed 2020, the LED lighting market bounced back from rock bottom in 2021. As prices stopped slumping with increased high-end lighting demand, the lighting LED market enjoyed considerable growth in 2021. In the coming years, the demand for high-end lighting LEDs will continue rising as smart and human centric lighting become popular, which in turn expands the lighting LED market scale.